Upcoming Workshops
Workhops in Brazil
Starting on May 23, Cynthia is returning to Brazil for a three-city workshop tour. She is excited to see old and new Brazilian friends in São Paulo, Porto Alegre, and Rio de Janeiro.
Workshop Dates
São Paulo: May 23 - 24
Porto Alegre: May 30 - 31
Rio de Janeiro: June 6 - 7

More information about these workshops is available [ here ]

Workshops in the United States

There are no workshops scheduled at this time.

If you want to be notified as soon as the next workshop is scheduled, please subscribe to our Email Updates.

Latest News & Updates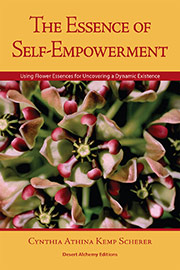 New Book: We are very happy to announce the release of Cynthia's latest book, The Essence of Self-Empowerment.
About Us
We produce quality flower essences from the unique plants of the Arizona deserts, and make them available to holistic health practitioners and self-help users.
As pioneers of desert flower essences, our extensive research began in 1983 and continues today. Our publications are dedicated to sharing this research with others.
We provide flower essence therapy courses to health practitioners and individuals who wish to add flower essences to their repertory of healing tools.
We offer private flower essence consultations to individuals interested in using flower essences for emotional support, attitudinal changes, and self-awareness.
[more about us]
Information in other languages: